Here you can find all my current product offerings. To get a more detailed description, click on the "Learn More" button at the end of each product description. If you need assistance, just email us.

Finding My Voice: How I Discovered the Elusive Path to Happiness in my Work (book)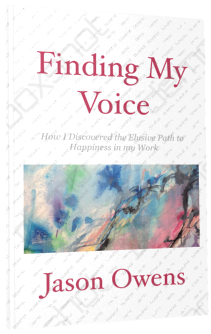 Toss aside the idea that you are the only person having trouble starting a business or launching a church. Creating any new enterprise is hard work that pushes us beyond our limits.
Jason Owens pulls back the curtain on what it is really like to start a venture. He talks candidly about lessons he has learned from his business ideas that didn't go at all according to plan.
Yes, you will have trouble starting a small business, starting a church or doing anything else that matters. The point is to accept these struggles as normal so you can get on with your journey.
Jason provides several easy-to-use tools to keep you from being unpleasantly surprised in the pursuit of your dreams.
Learn More
The Sales Workshop 6-Disc Audio Series
I am thrilled to release my first ever 6-disc audio series based on my most popular workshop, The Sales Workshop!
If you buy just one audio series this year, make it The Sales Workshop 6-Disc Audio Series
Disc 1: Overview and The Opportunities Facing You
Disc 2: What Most People Never Tell You About Selling
Disc 3: How to Win Before You Begin
Disc 4: The Money Map
Disc 5: The Money Map, part 2
Disc 6: Why Some Entrepreneurs Fail and Others Win
Learn More