This page contains 2 major sections:
Speaking and Live Events
Done-For-You Services
Subscribe to My Updates
When I am really in the flow, I publish three times per week. This usually entails one video on Mondays, and a blog post on both Wednesdays and Fridays. I write on sales, business start ups, email marketing, and the business behind becoming an expert. Subscribe now to get the latest.
Buy My Book
Discover My Voice: How I Discovered the Elusive Path to Happiness in my Work is packed with insights about the journey that I took in starting my first business.  It is a great read, and I have received a ton of compliments on it. I can't wait to get it in your hands, so click here to get your copy now.
Speaking and Live Events
Book Me as a Speaker
While working on my doctorate degree, I discovered the latest research on how entrepreneurs really start businesses.  I've converted much of these findings to a very informative and entertaining keynote presentation.
I speak mainly on the performance of entrepreneurs.  To help entrepreneurs become successful, I offer tools and tips to help them overcome the roadblocks they are certain to encounter.
Click here to learn more about booking me to run a keynote presentation for your organization today and then fill out my speaking inquiry form for fast feedback.
Book Me to Run a Workshop for Your Organization
My flagship product is called The Sales Workshop. I have led this workshop over 50 times in the past two years, and I have a strong passion for helping everyday people learn how to sell their products and services.
The Sales Workshop can be run in a very condensed 90-minute format, or it can be run as a full day production. Contact me to learn more about how I can run The Sales Workshop for your organization.
Done-For-You Services
Overview
You will find that everything I do points to helping you increase your influence.  I do this by focusing on these three areas:
Content – If you don't have great content that is published with some degree of regularity, then you simply won't have followers.  No followers, no income.
Acquisition – Once you have found an audience it is time to acquire permission to keep reaching out to them.  This is done in the form of obtaining their email address.
Conversion – After you have built a list, it is time to monetize your followers by selling them something.  This can be as simple as selling a book, or it can be as complex as launching a new membership site.
Blog Transformation
Your blog is the first place most people will go to size up your prowess as an expert.
This is especially true if people…
Are looking to hire you to speak at an event
Have been told by a friend to buy one of your products.
I make special use of the GetNoticed! Theme, a premium WordPress theme that has been designed specifically for experts and public speakers like us.  I use the GetNoticed Theme myself, and highly recommend it to everyone who works with me.
Here are a few screen captures from a blog that I recently revamped.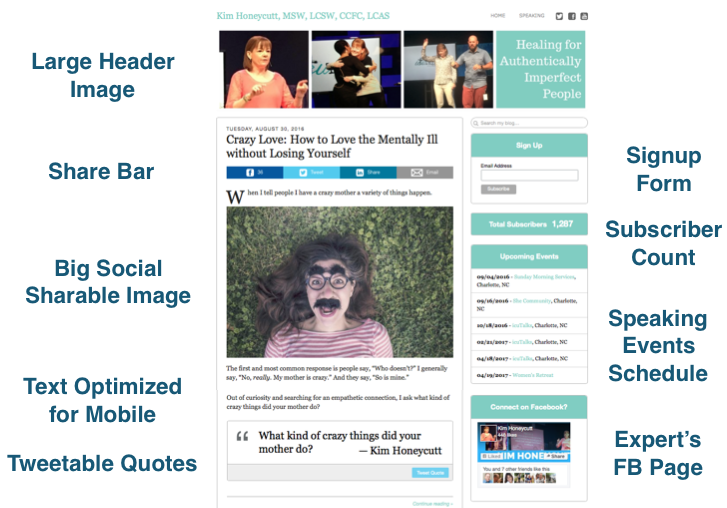 The fee range for this service is from $800 to $1200 depending on your exact needs.
This engagement includes a full turn-key solution where you barely need to lift a finger, and it includes the following:
Purchasing your domain name for you (your domain name remains your property).
Installing a premium WordPress theme that you have purchased, preferrably the the GetNoticed! Theme.
Importing up to 100 blog posts from your previous blog.
Converting your 4 most-recent blog posts so that they are optimized for viewing on a mobile device on your new blog.
Designing an initial header image for the new site.
Designing an initial mobile header for the new site.
Creating a MailChimp email account that will be linked to your blog.
Importing existing subscribers from your old blog to your new blog.
Enabling RSS-to-Email connection so that readers automatically receive your new posts.
Convert FB Profile to FB Page
I know of many experts who have built considerable following using their FB profile.  This is all good with the exception that these experts are missing out on the power of FB advertising, a very powerful tool to have handy.
I keep my FB profile mainly for friends and family, but my FB Page is what I use to get my message out to the masses.
The fee range for this is $150 to $250 depending on how deep you want to go in steps 6, 7, and 8.
The hardest part here is not creating the Page; it is getting people to Like your new Page.
The engagement includes the following:
Creating FB Page and import any needed images from your profile.
Designing an initial header image.
Completing the "About" verbiage so new people know what to expect from you after liking your Page.
If you have an email marketing system that will link to a FB Page, I will link this to your Page so that visitors to your Page can become email subscribers.
Inviting every one of your FB profile friends to like your new FB Page.
Sending email to your existing email subscribers asking them like your new FB Page.
Sending follow-up reminder email in 24 hours.
Showing you how you can increase Page likes for as little as $5 per day.
Optimize Your Business for Sign-Up Conversions
You can never have enough sign-up forms on your site. Here are four examples that are prominent today:
1) Splash Area sign up form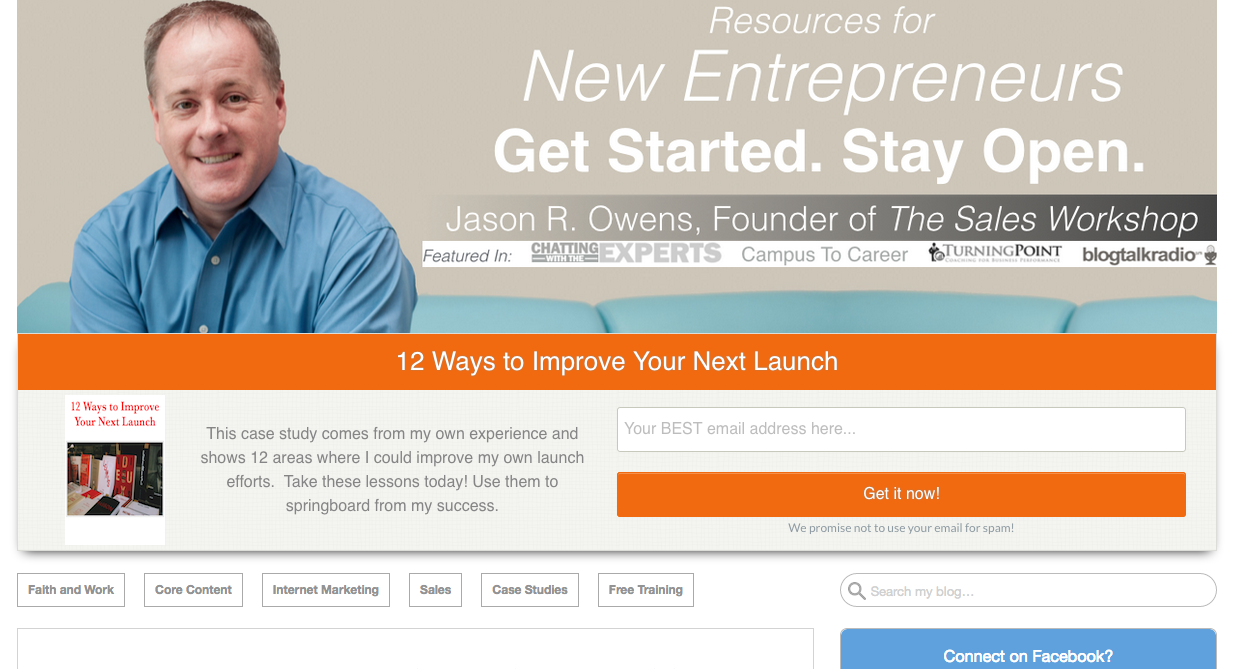 2) Right-hand side sign up form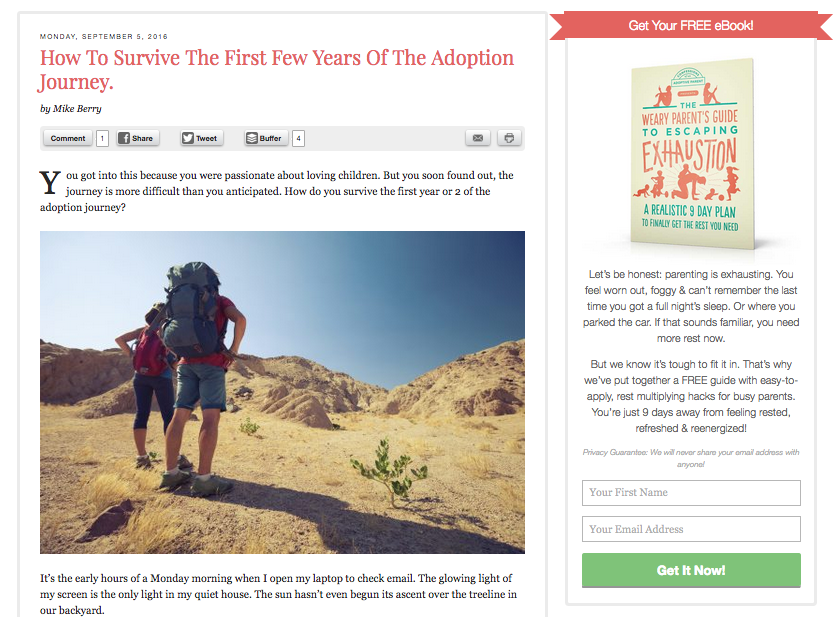 3) After-Post sign up form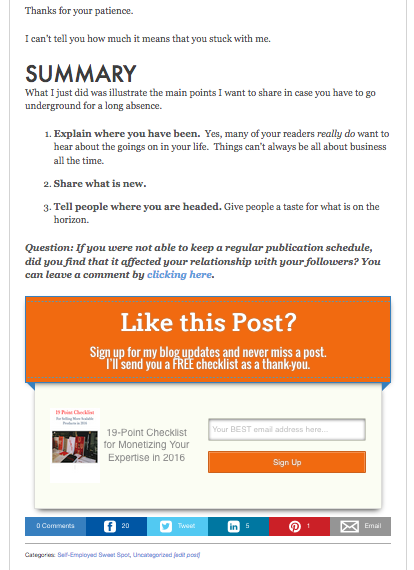 4) Mobile sign up form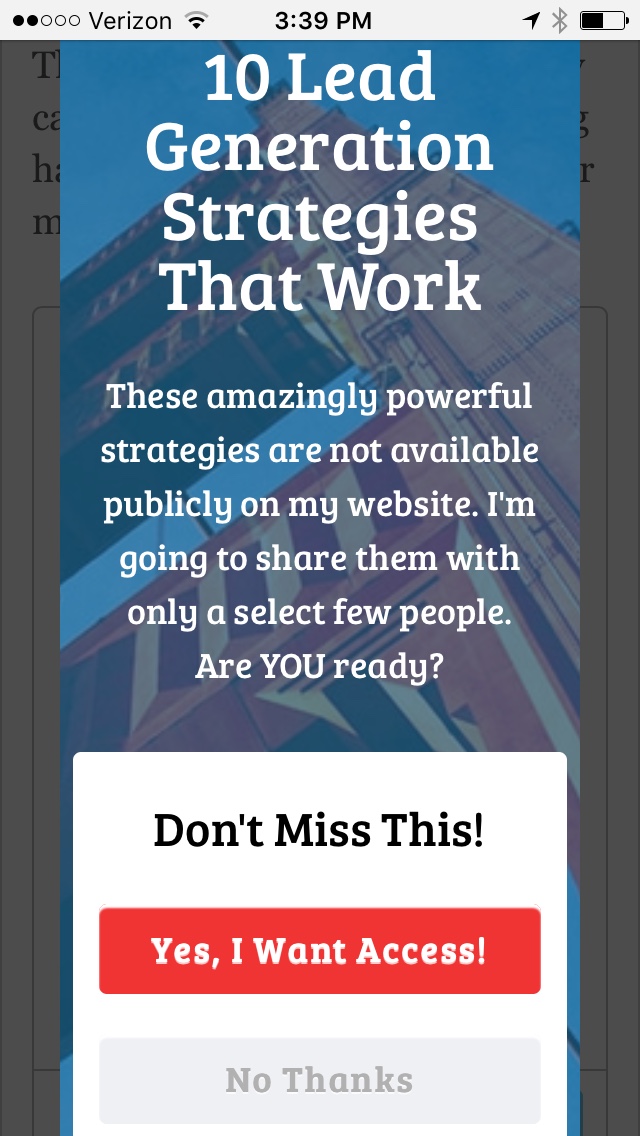 The purpose of this engagement is to begin making use of several of these forms on your site.  We can get started on this right away even if you don't have your premium give-away already created.
The fee for the engagement runs between $200 and $250 depending upon your needs and if you need me to create your premium give-away item (PDF, audio, video, etc.).
This engagement entails the following:
Crafting one (1) premium sign-up area for your blog's front page*.
Creating one (1) after-post sign-up form to be shown on all posts**.
Creating one (1) "exit intent" sign up form so that people are given one last chance to register before leaving your site.
Creating one (1) mobile-optimized sign up form that appears only on mobile devices.
*Placement will be on right-hand widget area unless your theme supports a splash area like the GetNoticed! Theme does.
**Some blog themes may not support an after-post form.  The GetNoticed! Theme does, so I make full use of it.
Context-Specific Sign-Up Forms
This is an advanced list-building technique that has been shown to drive an even higher number of opt-ins to your site.
Typically one drives traffic to a post on your site where you talk about, say, the joys of raising tropical fish (see an example that I did here).  Once people are on this page you then offer what is called an Article Upgrade.
The key point to remember here is that this freebie that you are giving away is NOT the main give away that you advertise on your home page, and most likely this particular blog post is the only place on your entire site where a reader can find this freebie from you.
This upgrade includes even more great information from you in the form of a download.
The fee range for setting up context-specific sign-up forms on one page of your site is $150 to $250 depending on whether or not you already have the context-specific freebie already created.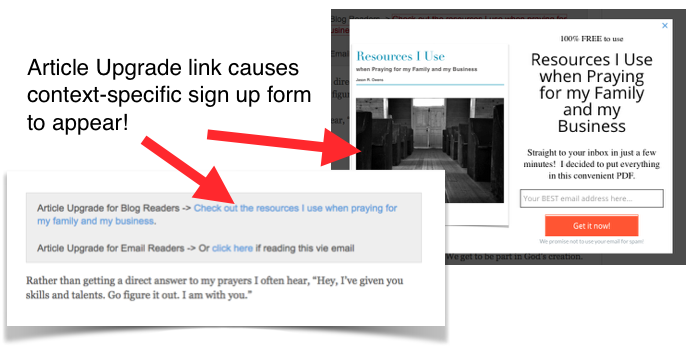 The page should contain one or more text links in the form of what is called an "article upgrade", plus an after-post form if your blog supports it.
Deliverables for this project include the following:
Creating one (1) sign up form that will appear after a person clicks on a text link, and apply this form in two (2) places in the article.
Creating one (1) after-post sign-up form specific to your offer.
If you need the premium element, a.k.a. the downloadable PDF in this example, I can create that as well.
Save
Save
Save
Save