After a very difficult period in her life, Laura Diehl woke in the middle of the night, her head filled with the title for a book and pages upon pages of notes.
Only a short time later this late-night epiphany has grown to several published books, a series of conferences, and her first-ever virtual summit.
Click the triangle to listen to the podcast to learn how she did it.
[smart_track_player url="http://traffic.libsyn.com/jasonrowens/JOP013.mp3″ artist="The Jason Owens Podcast" title="Ep.13 – 2 Ways You Can Benefit From a Virtual Summit – An Interview with Laura Diehl"]
Transcript
Complete show transcript is available here.
Links
Laura's Main Site – GPS Hope
Hope and Healing Virtual Summit for Grieving Parents (You should click through to see how many people Laura recruited for this event.  The number really is impressive!
Laura's YouTube Channel
[shareable cite="Laura Diehl"]Forward motion is better than no motion.[/shareable]
Tools She is Using
Benefits of Running a Virtual Summit
List Growth
Laura saw an increase of about 200 subscribers from running her virtual summit
Solidifying Your Expertise
Become even more of an expert in the eyes of other experts in your field, b) your prospects.
Other experts in your field
Your prospects
What Is Working Right Now
I noticed that the blog posts in Laura's blog often have what I'm calling a "Double Call-to-Action" where she has an after-post opt-in form above a second call to action for her speaking skills.
Laura says, "That [after-post opt-in form] has been our most consistent way of adding to our email list…"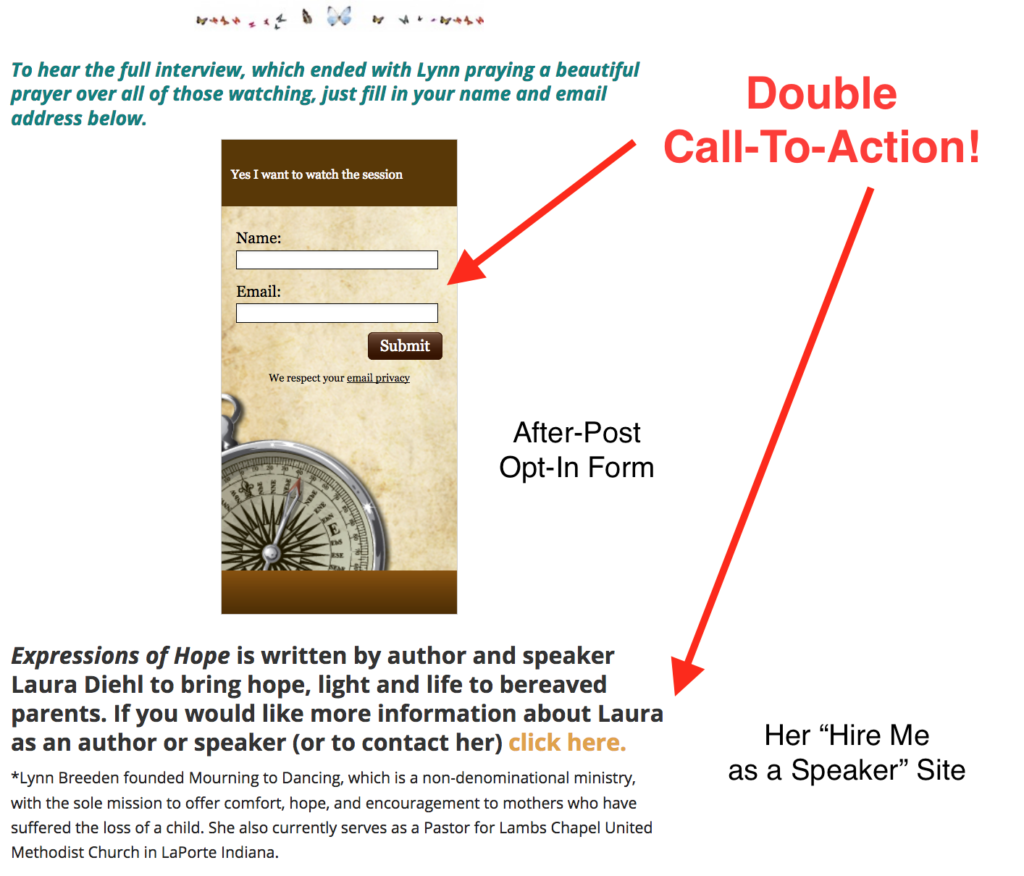 Listen to the Audio
[callout]I would LOVE it if you would leave me a review on iTunes![/callout]
Click the triangle on the green bar to listen now.
[smart_track_player url="http://traffic.libsyn.com/jasonrowens/JOP013.mp3″ artist="The Jason Owens Podcast" title="Ep.13 – 2 Ways You Can Benefit From a Virtual Summit – An Interview with Laura Diehl"]