I think I'm in love!
I found a new way to bring a fresh pool of cold traffic to my site and, most importantly, to my Facebook Pixel.
If you have spent any time on Facebook in the last 12 months you have undoubtedly seen one of your friends share a post that says "I got Boba Fett. Who will you get?"
One click takes you to an online quiz to help you determine which Star Wars bounty hunter you are.
I did a little digging to find out one of the companies serving these quizzes is Qzzr.
Qzzr Online Quiz Examples
I knew that the viral reach of these quizzes could be significant, so I decided to see for myself just how helpful these online quizzes could be in driving traffic.
I started a free account which gives you access to everything you need to get a quiz started.
My approach at first was to take as little time as possible getting the quiz out to new users, so I did not goldplate this first version.
Here is a screen capture of my rather nondescript entry page for my quiz (check out my quiz here).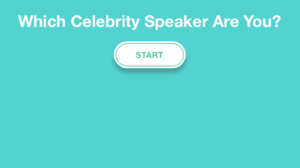 I didn't use any fancy background, because that would have taken extra work to put together (since remedied).
In total my quiz consisted of 5 questions.  I wanted something that people could do in less than a minute.
Facebook Ad to Drive Online Quiz Traffic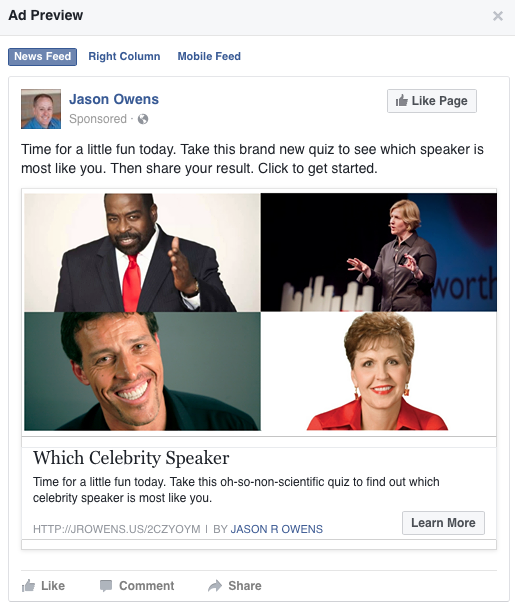 My Time Investment in the Online Quiz
My total time to…
Design the Quiz
Create the Blog Post where the Quiz resides
Create the Ad Creative for the Facebook Ad
Craft the Ad
…was about 2-1/2 hours.
Did the Online Quiz Really Drive Traffic?
Yes.  All things considered I am happy with the traffic driven to my site.
Sure, the price per click was higher than I would have liked.
Sure, I didn't get near the viral reach I would have liked.
But…people responded!
Why?
A quiz is different.
It is not a blog post, and it is not a podcast.
Here are the numbers
My Facebook ad to 3 different audiences over 24 hours netted 50 ad clicks.  I also posted a link to the survey on my FB page, and on my FB profile where the survey received additional traction.
My cost per click (or to use the new term, "Cost Per Pixel") for the Facebook ad was $1.55.  The first day of the campaign saw CPP as low as $0.96.
As you can see below, the quiz was viewed a total of 68 times, and it received a 40% start rate.
Of the people who started, 93% completed the quiz — pretty impressive retention — validating my assertion that keeping the quiz short would help in this stage.
Of the people who completed the quiz, 4% shared it.
Quiz Engagement Funnel Results

Online Quiz -Lessons Learned
1) Online Quizzes Rule!
First take away is that I now LOVE incorporating quizzes as a means of driving (and pixeling) traffic.  I will certainly do this again.
2) Silly is Better for Viral Reach 
My hunch here is that people didn't share much because they didn't like their result.
For example, a number of people received the result that they were like Brené Brown.  Maybe this works for you if you are a woman, but I could see some men not wanting to share this result.
If your answer were closer to "You got Purple Elephant", perhaps this is less challenging to one's identity, and you would be more willing to share this with your online tribe.
What I Would Do Differently Next Time
1) Better Audience Selection
I am in the process of honing and fine tuning my interest-based audiences, and I believe the lack of a well-defined audience really drove my CPP too high.  Ideally, I'd like to see my cost per pixel below $0.75.
2) Use a Cover Image for the Online Quiz
For this first version of the quiz the cover image was a field of turquoise.  Certainly does not have the  draw of a compelling image with recognizable faces.
3) Better Copywriting on My Ad
My invitation to take the quiz could be more compelling.
4) Test Different Images on Ad Creative
This time I constructed the one ad creative so that it contained both genders.  The easiest change I could make here is to create a montage of just women and a second montage of just men.  Each could be driven to their respective genders via FB ad targeting criteria.
[reminder]How about you? Have you used online quizzes as a way to drive cold traffic to your site? If so, tell us how it worked out for you.[/reminder]
Save
Save
Save
Save
Save
Save
Save
Save
Save
Save
Save
Save
Save
Save