Here is how you can build a great list and control your destiny.
Those of you who have been with me for any time at all know that I am always on the lookout for ways to help my readers grow their email subscriber base.
I'm writing to share yet one more success that we've had recently with a public speaker who used this one simple technique to great effect!
I've written about list-building by SMS previously because I heard about somebody in our community who was successful with it.
I was so intrigued with it that I had to try it with one of my clients, and it is working like a charm!
[callout]Get a full 7-page report that details precisely what you need to do to begin leveraging SMS to build your email list today.  Click now to get…
3 Methods Anyone can Master
10 Scripts to Boost the Number of New Subscribers
[/callout]
How List-Building By Text Works
You sign up for a service that provides you with:
A Keyword.
Digits to where people text your keyword.
You also get to personalize these two messages that are delivered by the SMS/text system:
The prompt where you encourage a person to subscribe.
Your welcome message.
Once the text system has the email from your new subscriber, it sends that email to your email marketing system so that it can auto-deliver your signup goodie right away.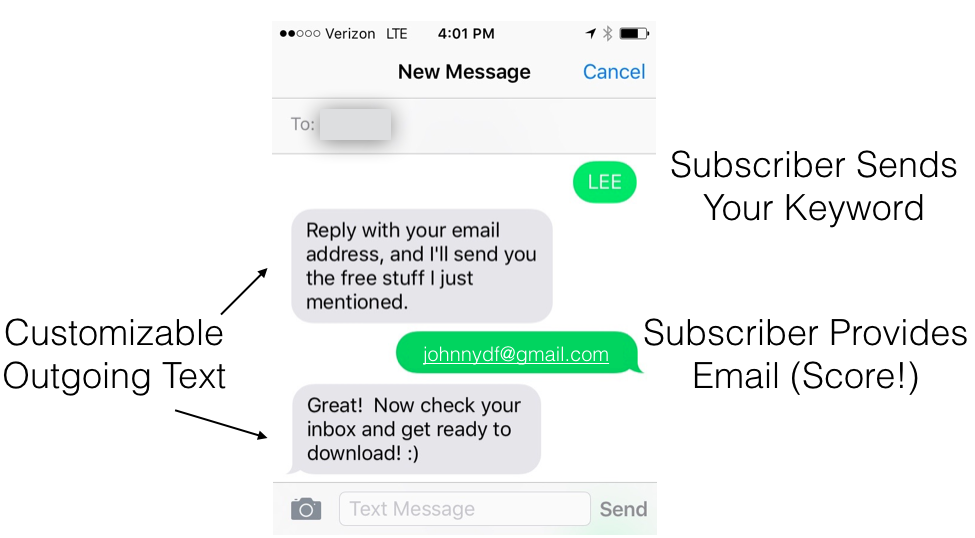 [shareable cite="Jason R Owens"]You are crazy if you aren't using this Oh-So-Easy technique to build your list.[/shareable]
How You Get People to Sign Up
Here are two ways that I've seen this used:
The Active Technique. From the stage you say something to the effect of "Thanks for attending my talk today. I have a special piece of bonus content for you [guide, etc. that takes people deeper into your content]. Take out your smartphone now and text GIFT to 33444, and I'll send this bonus to you right away."
The Passive Technique. Have the event promoter distribute your keyword and digits. Simply put your info on a business card, on a table tent, on a flyer in a goodie bag, or even list your info directly in the program.
Either one of these techniques are going to help you with enrolling new people to your list.
I have gone into great detail to describe even more techniques that you can use, including telling you 10 different scripts you can use (one of these techniques alone will nearly double your results) to get the best results.
Results
A client of mine who recently used texting as a way to get people to join her list spoke in 2 different sessions during the day — one morning and one afternoon.
My client received a 36% opt-in rate across the two rooms! This is phenomenal!
Upgrade your reading experience now to learn how you, too, can get a massive influx of subscribers every time YOU speak!  It worked for my client.  Why couldn't it work for you?
Why it Works
Not only is having somebody join by text a lot simpler and a lot easier, people feel like they are in a little bit more control.
The user experience is different than somebody asking you to add your name to sign up sheet.  This is more of an active strategy and people feel more involved in the process.
Plus, you get the extra push from social proof. If both of my neighbors pick up their phones and start signing up for your bonus, then…I better sign up for the bonus, too, because I don't want to get left behind.
It doesn't hurt that they get instant validation an instant feedback from you.
The way the system is set up is that the person ends up getting your goodies, or your freebie, sent directly to their inbox as soon as they register — instant gratification!
For those of you who are not using a technique like this in your list building arsenal, I highly recommend it!
[shareable cite="Jason R. Owens"]You need to add List-Building-by-Text to your arsenal today![/shareable]
As I begin using this with more and more clients, I'm beginning to see that this technique is working across the board with
health practitioners
business coaches
public speakers
practically anyone who standing in front of a roomful of people in a position of authority.
[reminder]If you have used texting as a way to build your list, how has it worked for you? Good? Bad? Let us know.[/reminder]
Save
Save